Holiday Decorator Duo
$99
It's time to start decorating for the holiday season, and what better way to embellish your existing decor than adding the Holiday Decorator Duo to the mix. Including one Tabletop Norfolk Pine and one Mini Lemon Cypress, this festive duo will add a lively touch of holiday greenery to your home this season. Both plants prefer bright indirect to direct sunlight and will be happiest in a humid environment.
Choose Color
Details & Care

Difficulty

Easy—Relatively low maintenance

Light

Bright Indirect to Direct

Pet Friendly

No—Toxic and not pet-friendly

Air Cleaner

Yes—Releases oxygen and absorbs pollutants
What's Included

Two healthy plants pre-potted in Ecopots with matching saucers:

MD Tabletop Norfolk Pine
SM Mini Lemon Cypress

All the tips and tricks for expert-level care
Express Shipping
Express Shipping Available
Learn More
Guarantee
If your plant dies within 30 days, we'll replace it for free.   Learn More
Description
Add an extra special touch of holiday cheer to your home this year with the Holiday Decorator Duo. The Norfolk Pine is a popular holiday plant since it resembles a pine tree with its short, soft needles on gracefully arching branches. The Mini Lemon Cypress adds a pop of bright color and a subtle citrus scent to your space that is accented by its adorable upright cone shape. Both plants can be festively adorned with lights and ornaments or left to shine on their own.
The Lemon Cypress is native to California, and the Norfolk Pine can be found in the South Pacific. Both plants prefer a humid spot with bright indirect to direct sunlight. The Norfolk Pine appreciates frequent waterings and the Lemon Cypress can be watered once half the soil volume has dried. This duo not only will thrive as lively decor but can be kept for many holiday seasons to come.
Additional Resources
:
Meet the Plants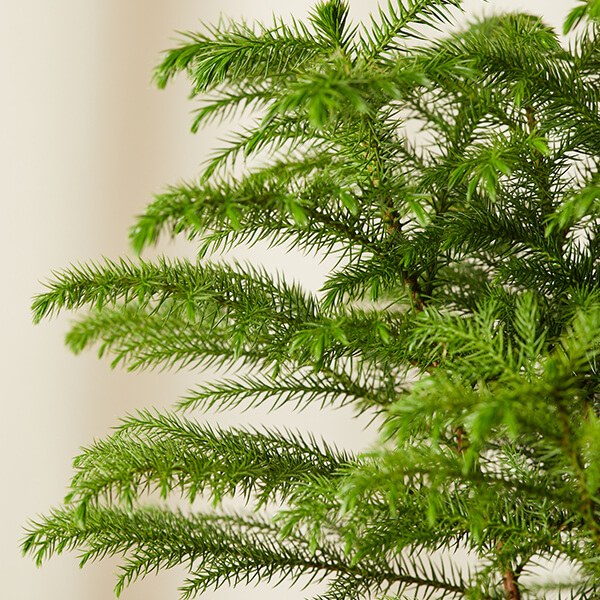 What People are Saying
"This is the best plant store I have ever ordered from! My plants were shipped/delivered so fast. When I had a question, Bloomscape got back to me right away, and they were so friendly!"
Jess J.
"The plants are in such great shape when they arrive, the pots are beautiful, and the variety is fantastic."
Meghan K.
"I knew nothing about plants, and was able to feel confident about caring for them. I haven't killed one yet, thanks to help from your care guides and Plant Mom!"
Kayla B.